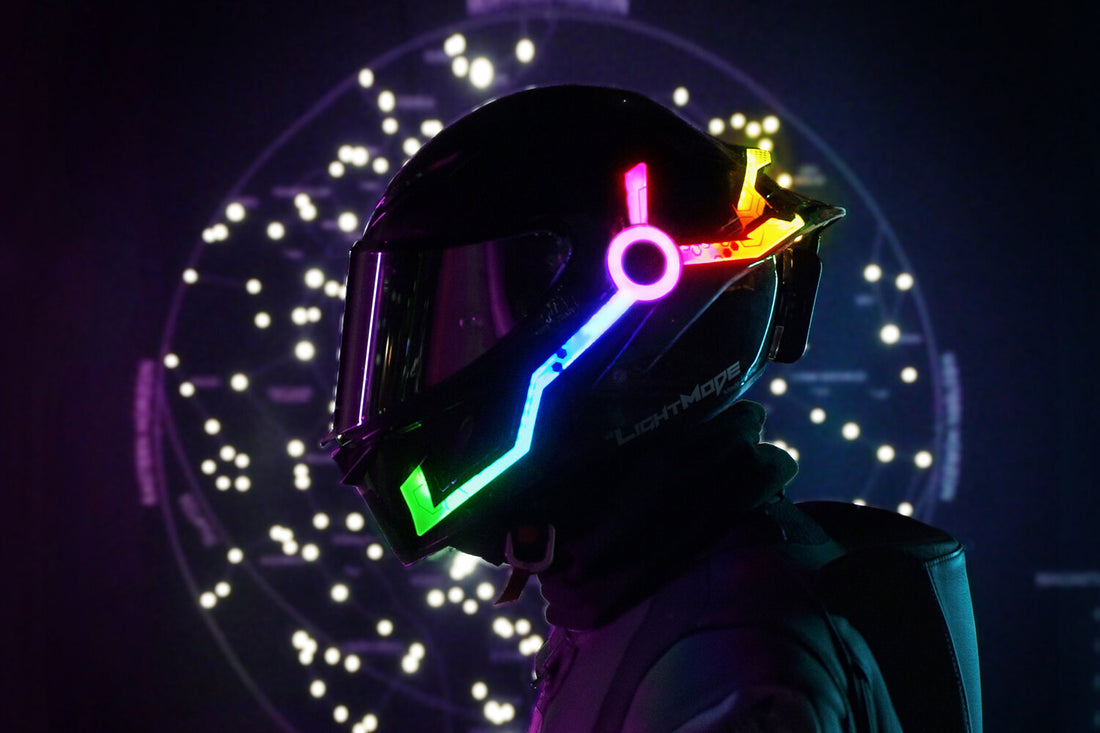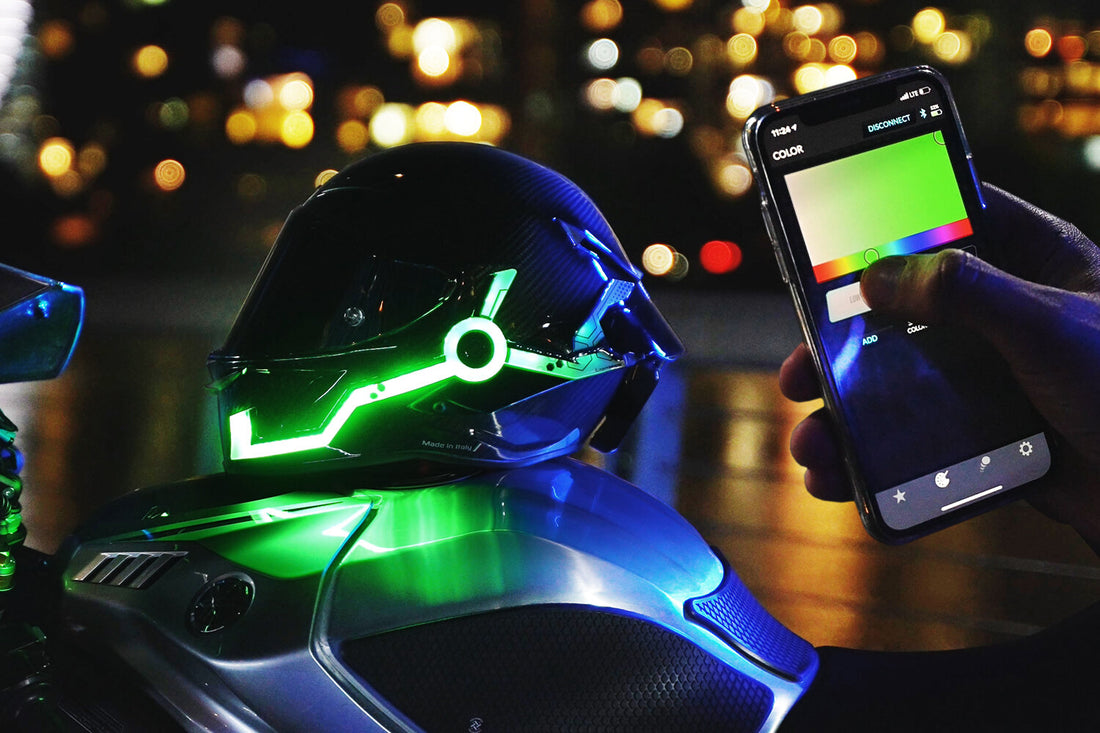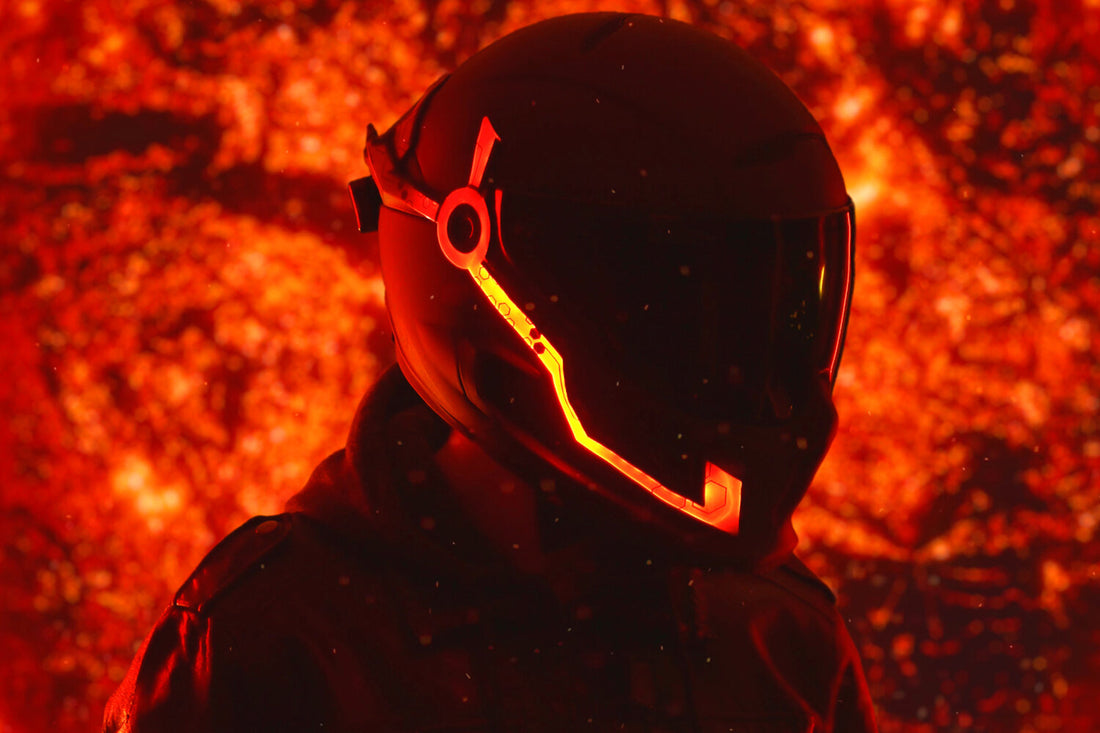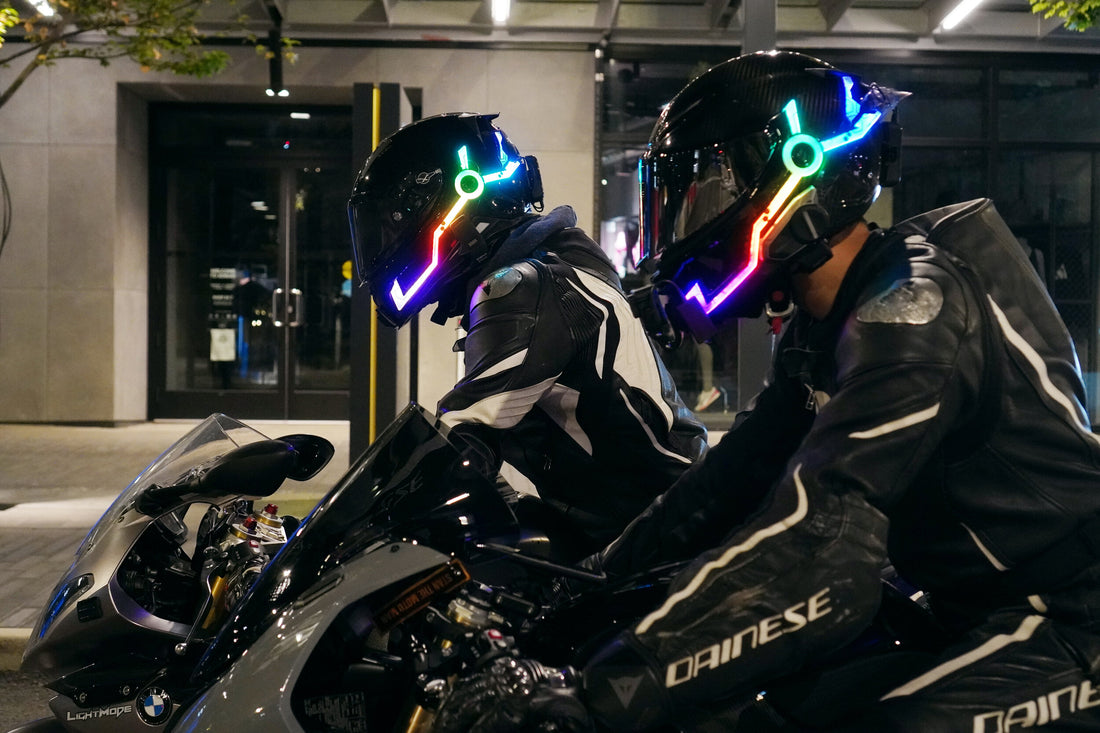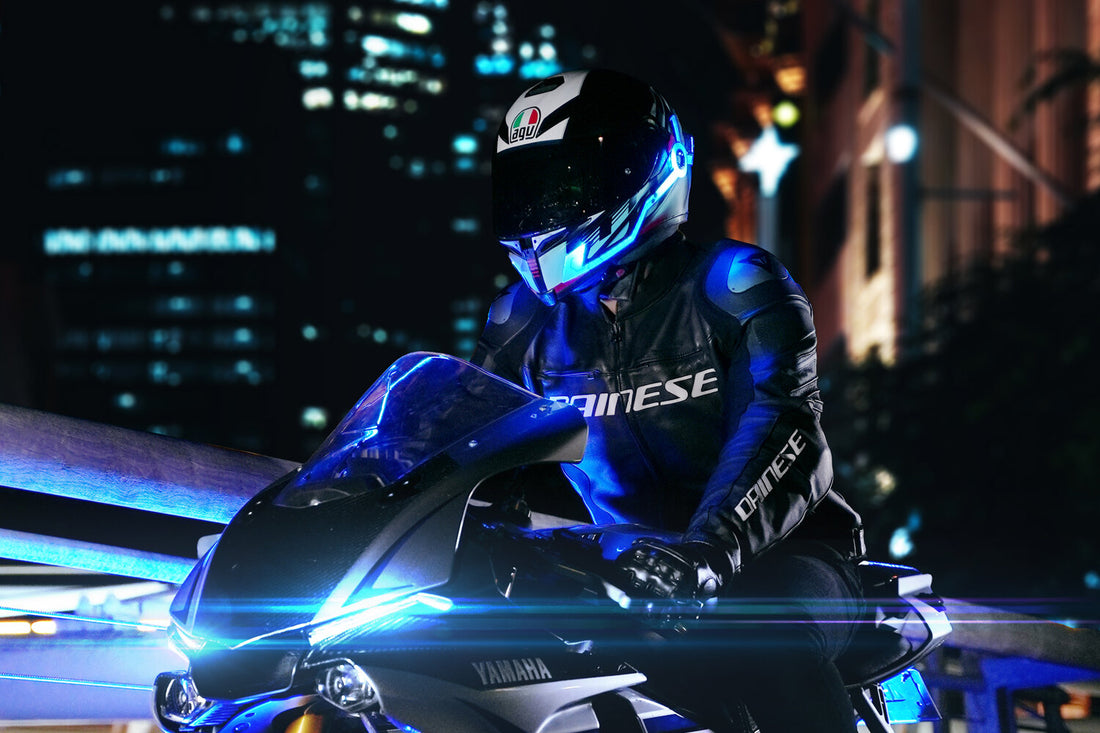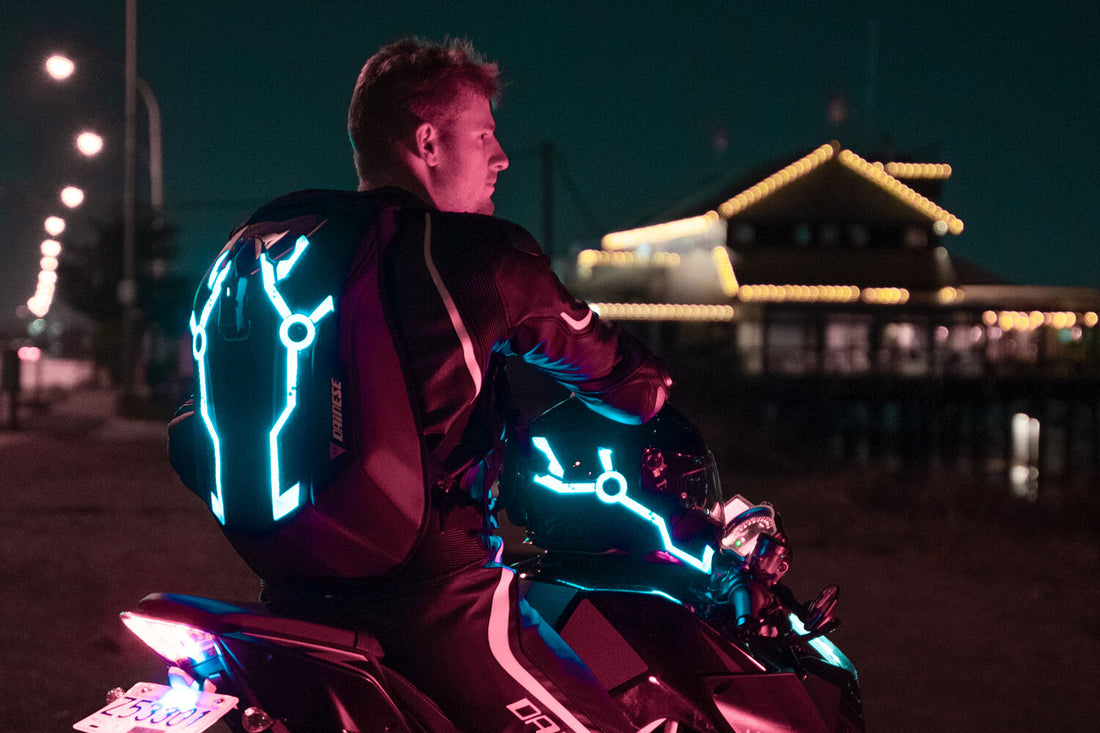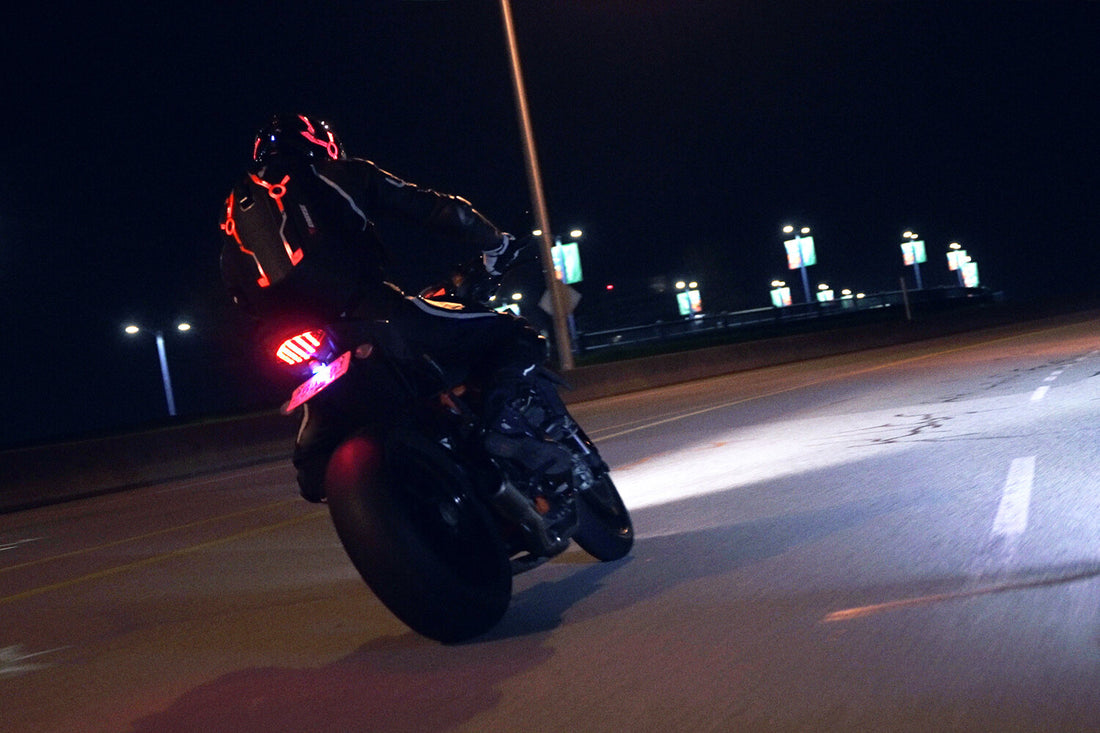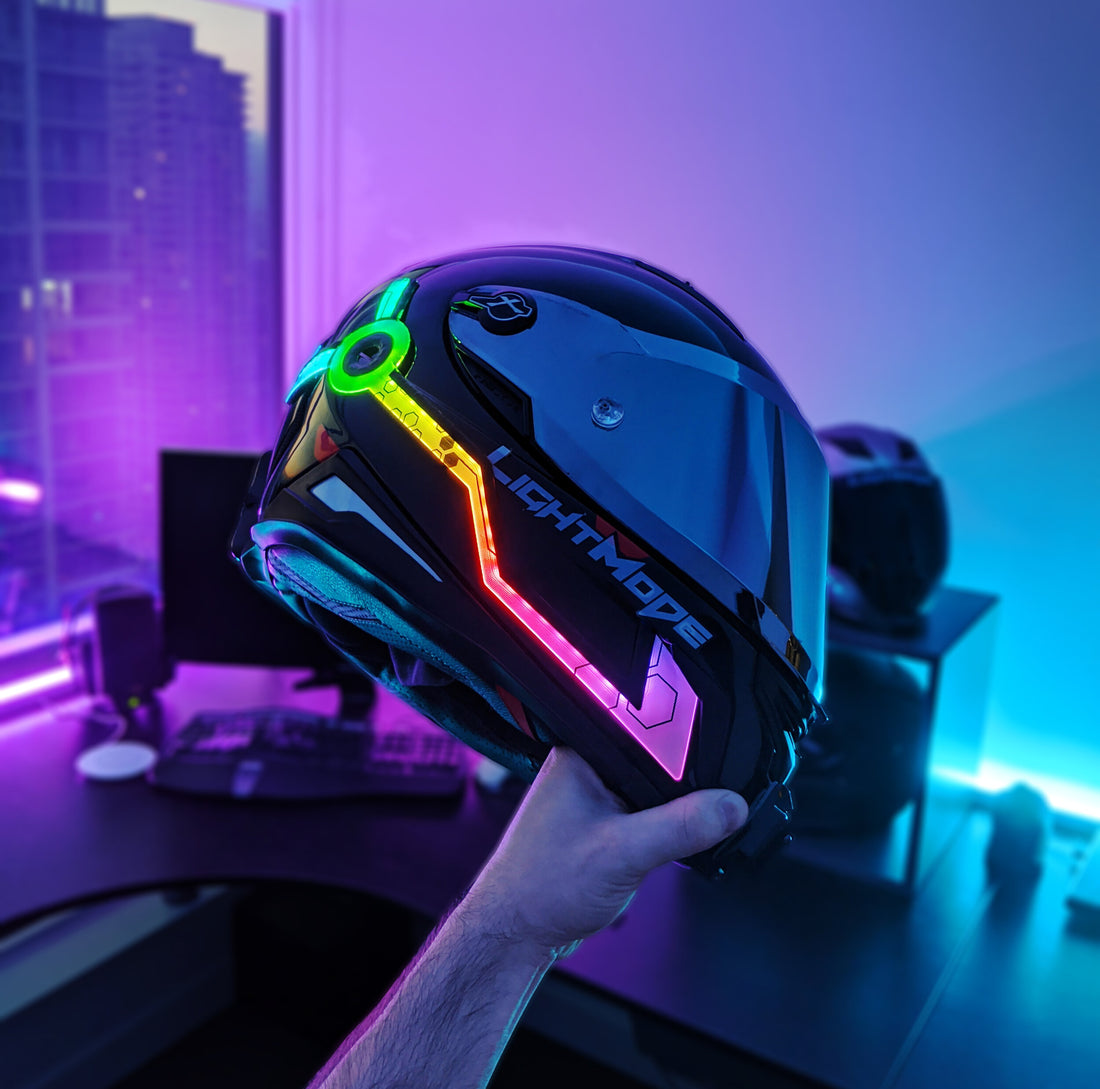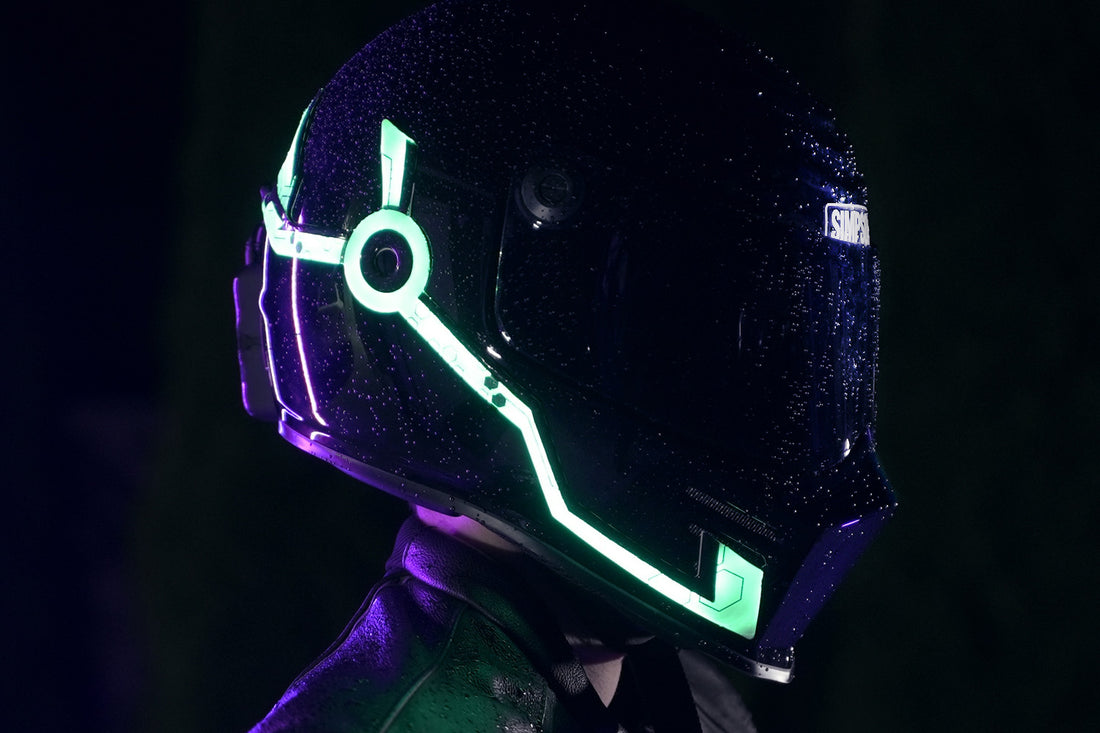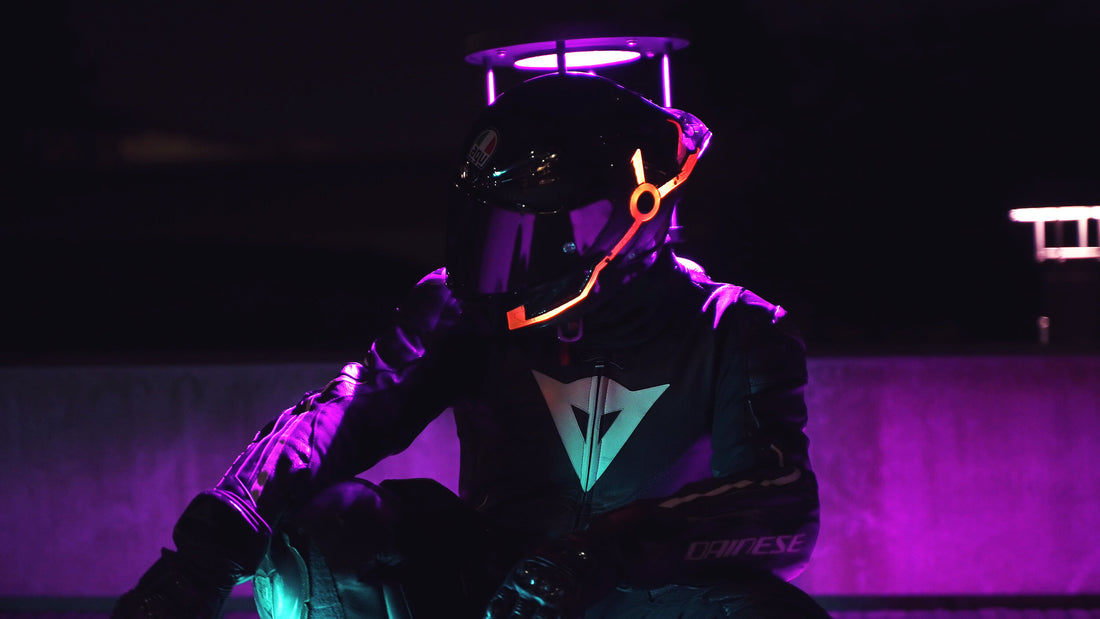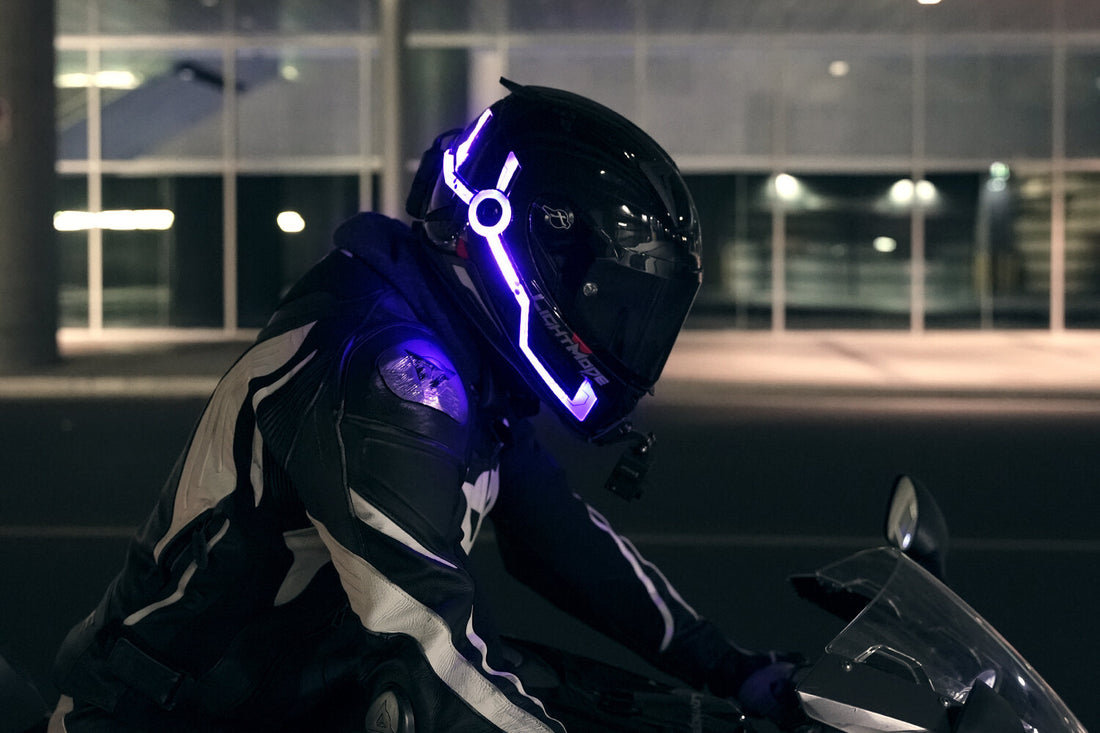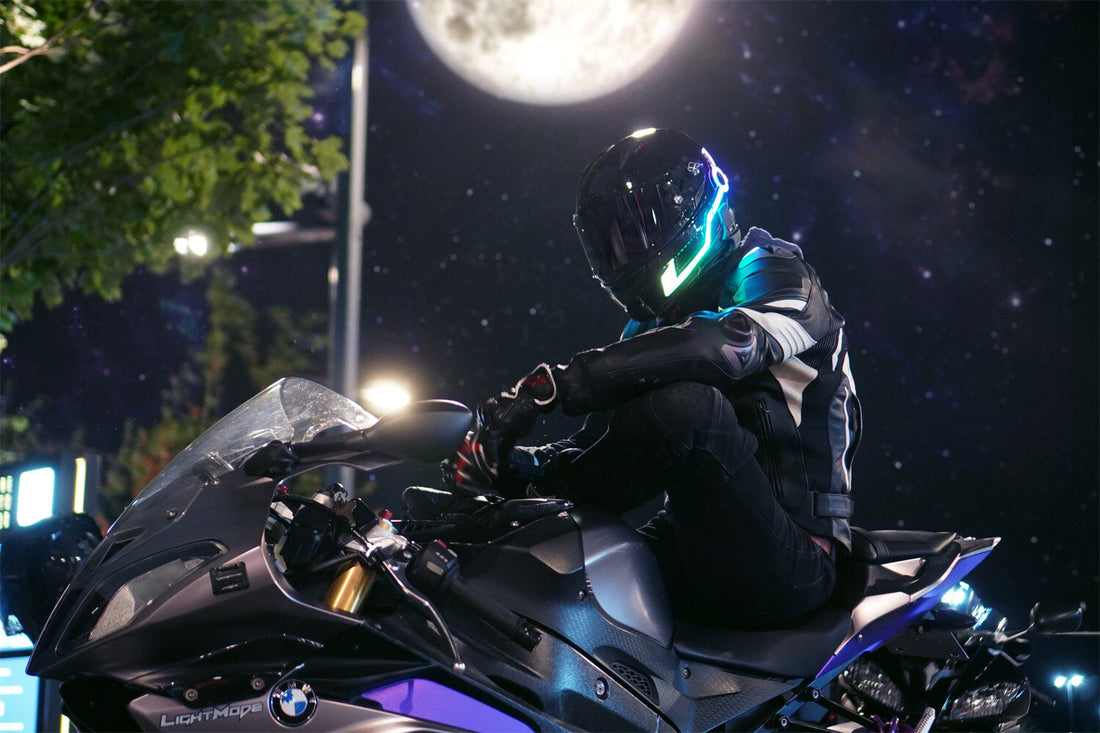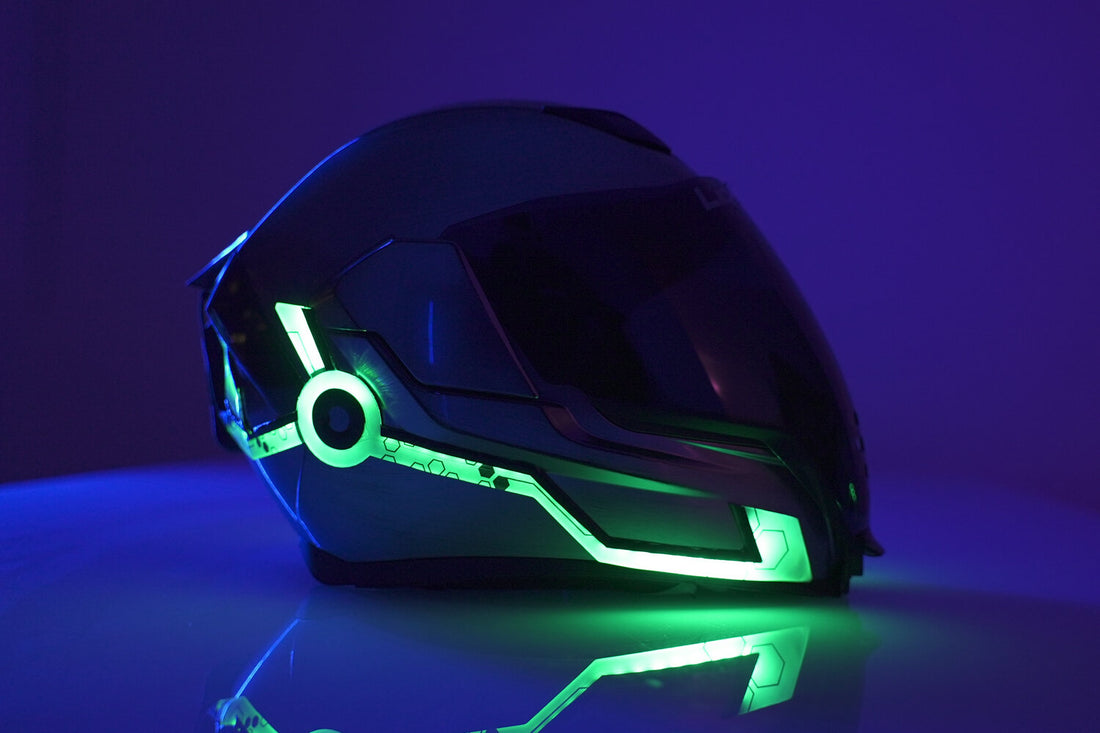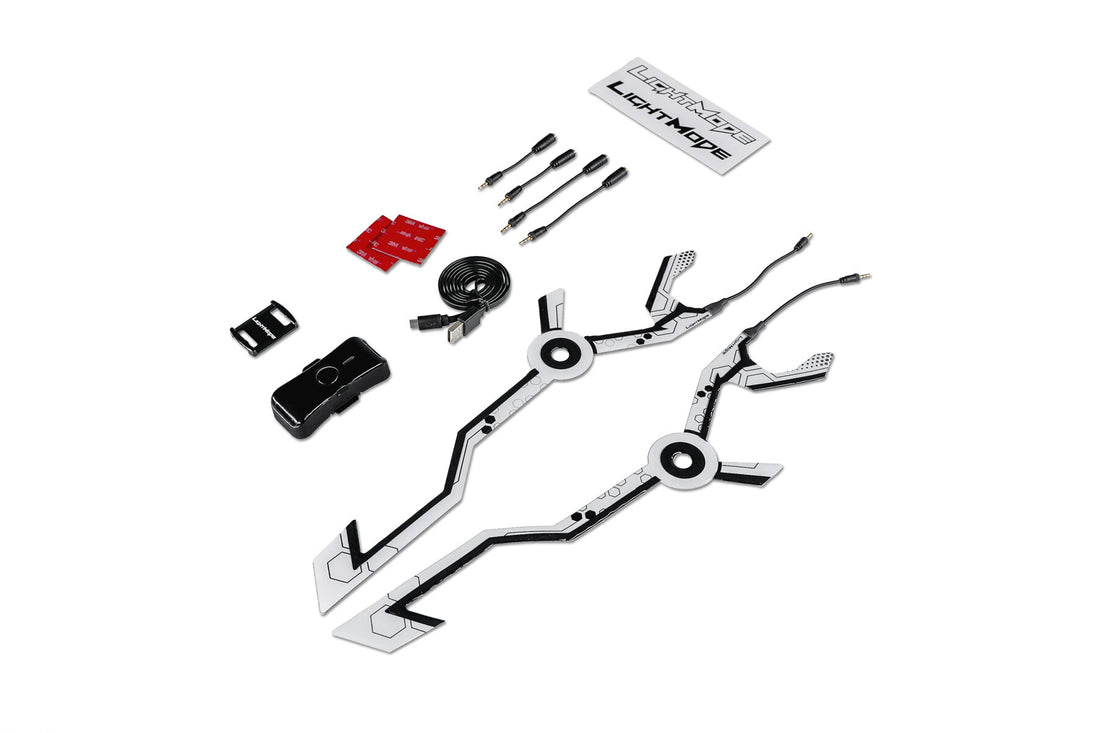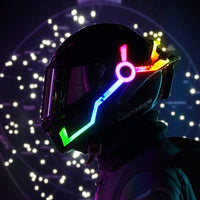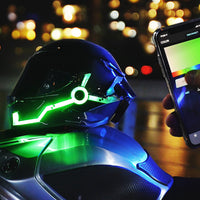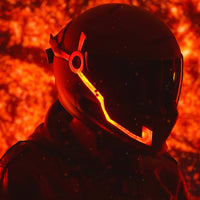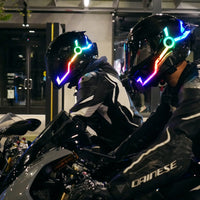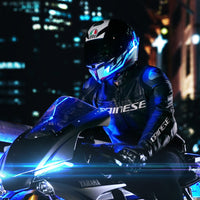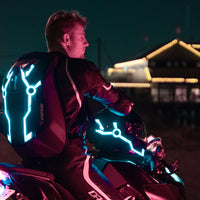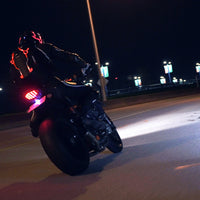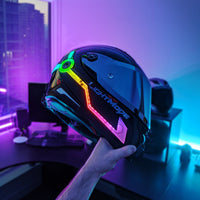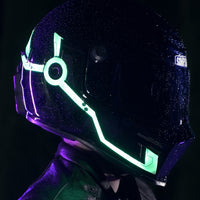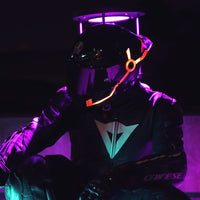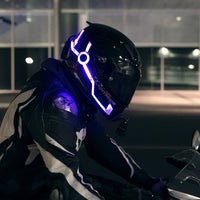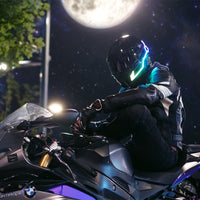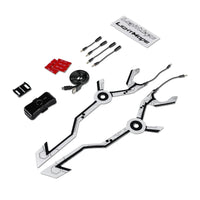 Become a real-life TRON character! Illuminate your helmet with our new RGB LED kit.
Plays animations in ALL colors.
Fits on full face, modular, and half helmets.
Free LightMode app (Android & iOS).
Water resistant.
7-10 hour battery life.
Just peel and stick.
2 × Night Shift LED Strips
1 × Night Shift controller
1 × LightMode mount
4 × Extension wires
1 × Charging cable
Extra adhesives
LightMode app
1-Year warranty
20+ Animations
Change up your look each ride!
ALL COLORS
Fine tune your color scheme to perfectly match your gear and bike.
Reacts to sound!
That's right! The Night Shift has a built-in microphone. Play your favorite tunes and watch your helmet groove to the music!
Diffused Light
Generic LED strips use point-source lighting, and quite frankly, it sucks 👎.
Water Resistant
Incredibly
Thin
MUCH brighter than before!
Both images recorded using the exact same camera settings.
25% Thinner
Watch how to install the Night Shift on an AGV Pista
You can test-fit the Night Shift on your helmet before you buy.
Click Here to download a printable PDF template of the Night Shift.
BATTERY
Battery life: 7-10 hours
Charging time: 2.5 hours
Port: Micro-USB (cable included)
Composition: Lithium polymer
Size: 1450 mAh

LEDs
Type: RGB
# LEDs: 113

USAGE
Operating temperature: -10°C - 55°C (14°F - 131°F)
Charging temperature: 0˚C – 45˚C (32°F – 113°F)

COMMUNICATION
Bluetooth v4.2
WiFi (802.11b/g/n)

APP
Android & iOS
Can I use this in the rain?
Yes, we designed our kits to be useable in light to moderate rain. Even if water found its way in, the internal circuit board is coated in a hydrophobic layer to protect it from water damage.
Does this work on modular helmets?
Yes, all our kits can fit on most modular helmets.

>> CLICK HERE << to watch how you can install our kits on a modular helmet. Skip to 4:16 to see how the green Grid kit is installed. The Grid kit is very similar in size/shape as the Night Shift so you can install it the same way.
Where do you ship to?
We ship worldwide.

You can see shipping rates for your country by adding a kit to your cart and entering your address on the checkout page.
Where's my order?
We ship once a week, usually on Wednesdays. Please check your inbox for an automated shipping notification. That email will have tracking details (if you chose a shipping option with tracking).
Are your kits helmet-specific?
No, our kits are designed to be universal.

>> CLICK HERE << to download a printable template to test fit before you buy.
Do you provide the helmet?
No. We only sell kits that customers install on their own helmets.
Is it legal in my country?
Every country/state has its own legislation when it comes to motor vehicles. The state of California, for example, does not consider the vehicle operator as part of the vehicle, so the laws that govern the lighting of a motor vehicle do not apply, and therefore this is legal there.

In our 8 years in business, we've never encountered an issue with legality. However, if you want peace of mind, please contact your local police department to inquire. We are not responsible for any encounters you may come across with your local authorities.
Will I have to pay duties/taxes upon delivery?
US orders: no duty or taxes.

Canadian orders: only taxes which you will pay while submitting your order.

International orders: Duty and tax rates are set by your government, and your post office may be required to collect it upon receipt of an item. It's a standard practice worldwide, although sometimes customs offices do not charge duties/taxes for a variety of reasons.
What is your return policy?
If you are not completely satisfied with your purchase, you may return your order in the original packaging and in new, working, and saleable condition, within 30 days from your date of purchase. 

To speed up processing of your refund you should place a note with your Order Number in the return box. There is a 15% restocking fee for all returns. Shipping costs are non-refundable (if applicable). Here are our return addresses:

Orders within USA:
Thomas Plywaczewski
1582 Gulf Rd
Unit 904
Point Roberts, Washington, 98281
USA

Orders outside of USA:
Contact us for return address: support@lightmodehelmets.com